Montclair State University
By kuky at Mon, 01/21/2008 - 10:28pm
Getting to Campus:

The campus of Montclair State University is located at the corner of Valley Road and University Avenue (aka Normal Ave) in Upper Montclair. For GPS or digital mapping use the address 1 Normal Ave., Montclair. The main entrance to campus is on Normal Ave near the train station. Click here for more information on how to get to campus and parking info.
Once on Campus:


From the main entrance follow the driveway to the left to the stop sign. The Red Hawk Parking Deck is on your right. Take a ticket at the gate and find parking in the deck. Take the ticket with you. (Parking fee runs from $4.00 for up to 2 hours; 2‐4 Hours $6.00. This is paid at the machines on floors 2, 4 or 5 when you are ready to leave. Recently they have also added an option to pay (credit only) at the exit gate.) The walk across campus to the CELS building is about 8 to 10 minutes so please plan accordingly.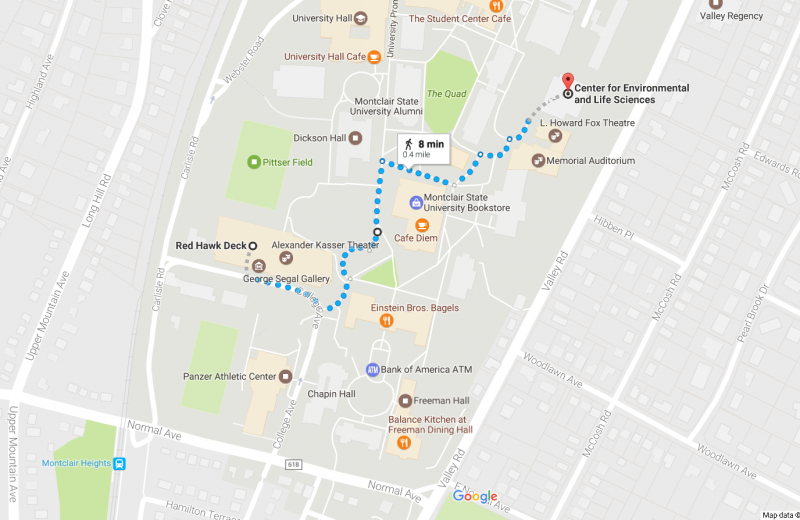 Click here for an online campus map and parking info.
Meetings are held on the second Wednesday of the month (except August) and begin at about 8:00 p.m. at Montclair State University in the Center for Environmental and Life Sciences (CELS) usually on the first floor in room 110. This is located off the large lounge area at the back of the building. Room 110 is on your left. (Note occasionally when room 110 is not available, we meeeting in room 207 on the second floor at the top of the stairs.)